I have seen many photos, read loads of articles and heard countless stories but nothing really encapsulates the feeling of wandering through Cambodia' ancient ruins until you there in person. The temples are of Angkor are possibly the most magical and beautiful ruins I have had the pleasure of walking through.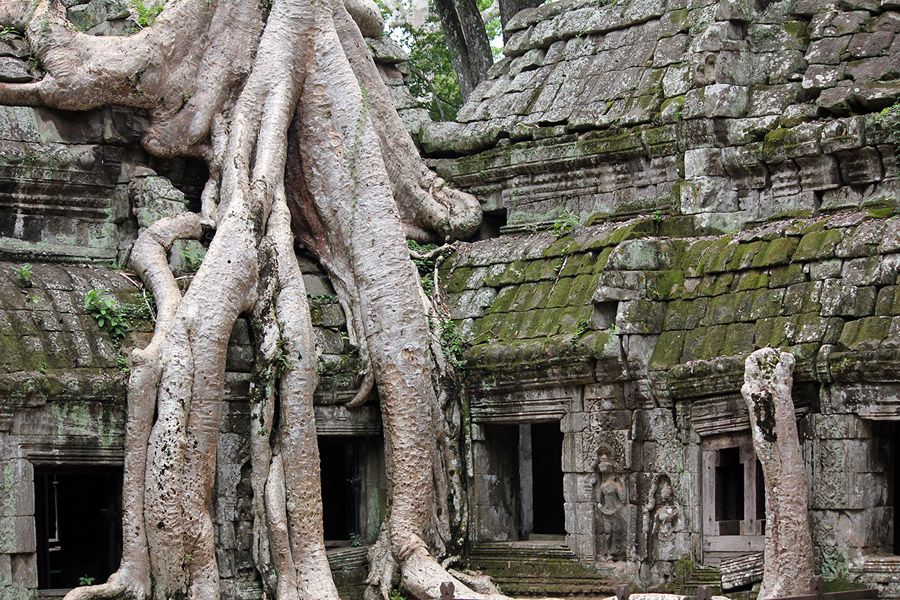 We hired a tuk tuk (our drivers name was Walter) and headed out to visit our first stop: The temple of Ta Prohm. This is one of most popular temples that was apparently shot to fame in the movie Tomb Raider back in the early 2000's. It is an ancient ruin built around 1100AD however has been completely overtaken by jungle. The roots of trees run through many buildings and you have the feeling of being transported into another world! The boys had a wonderful time climbing over the ruins and tree roots. They lit incense and had their photo's taken by many of the asian tourists! They loved the freedom of running around and being physically challenged by all the uneven ground. I loved walking through the ancient rooms and imagining what might have happened there a thousand years ago.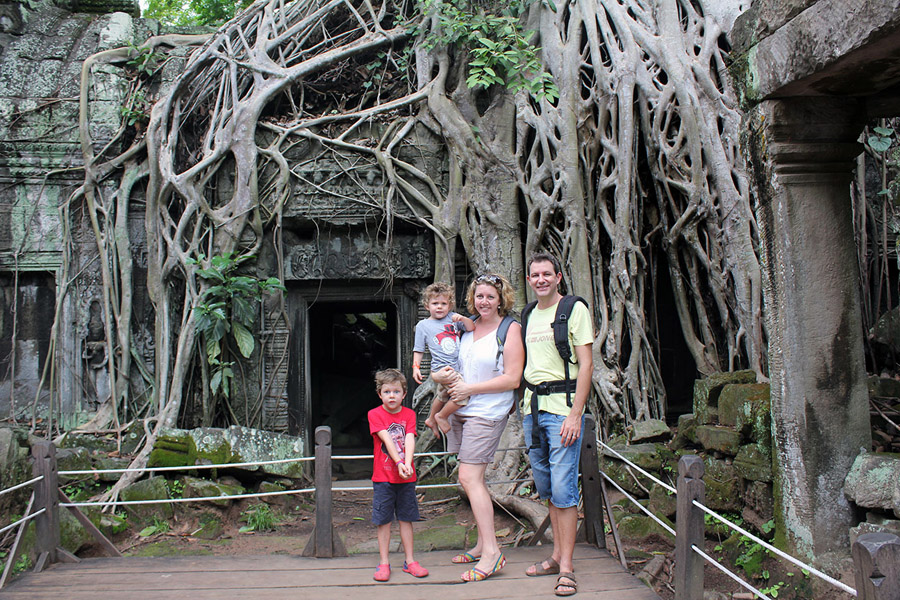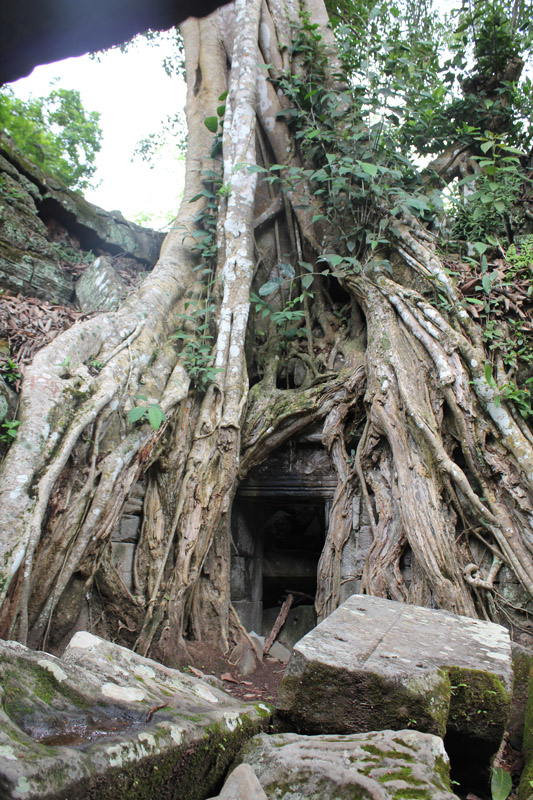 Milo needed a sleep so we took off and went for a beautiful country drive in our tuk tuk while I cuddled my littlest one and he napped. We had a lovely lunch in a refreshingly air conditioned restaurant and headed off to our next stop. The temple of Bayon has been noted as being an Odd temple. There are hundreds of faces all throughout and the walls (or what is left of them) are covered in artworks and drawings (similar to hieroglyphics).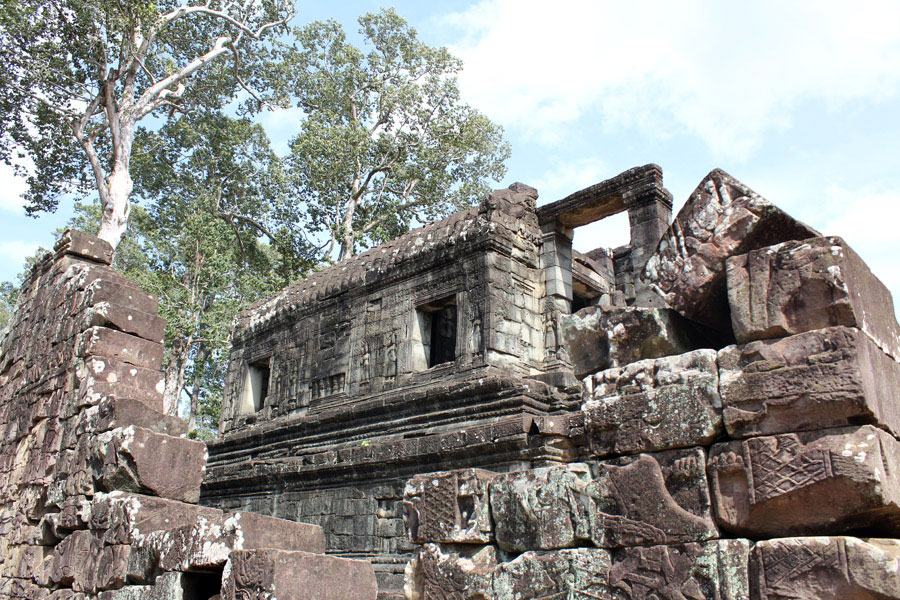 This temple was a little more physically demanding than Ta Prohm as it was very steep, the steps were tiny (some were 15cm deep) and there were few railings to keep everyone (including the kids) safe. However we made it through and the boys loved the challenge.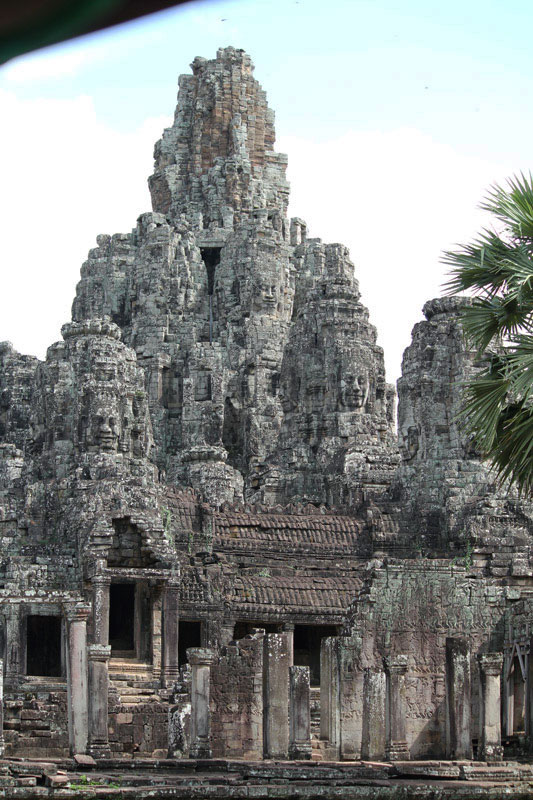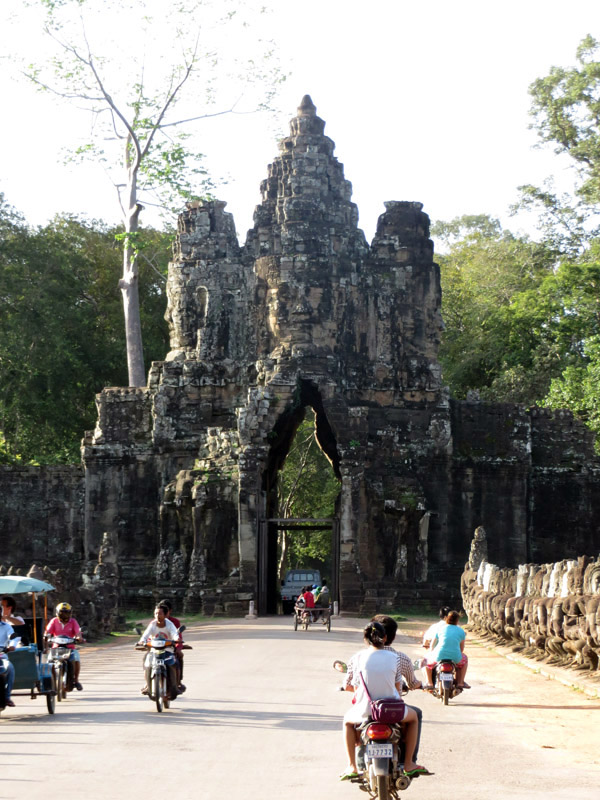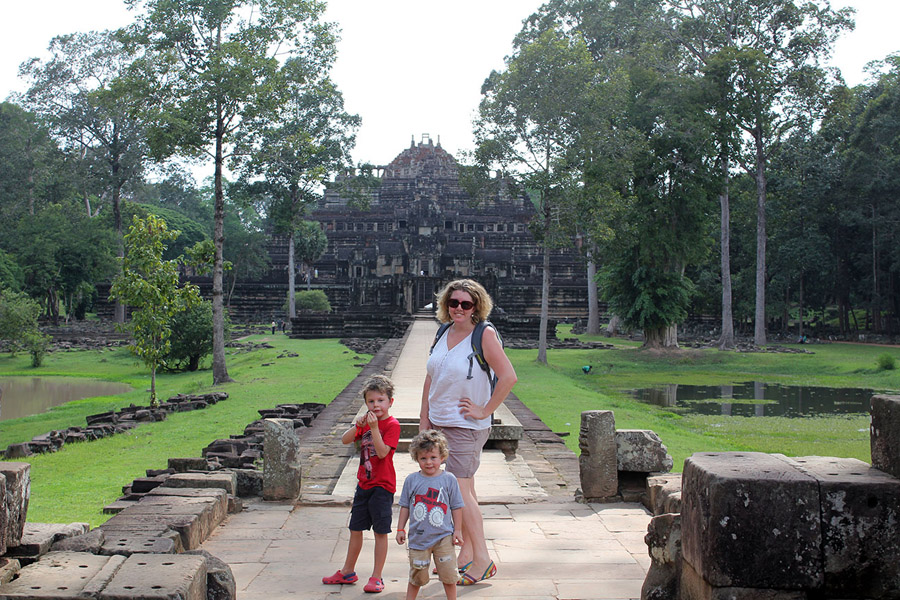 We then headed over to the Temple of Thom. Tom was very excited about the name! This temple was surrounded by beautiful thick jungle with many giant trees and open roots! It was like being in a movie! The kids had a great time running through the jungle area and just being free to roam around.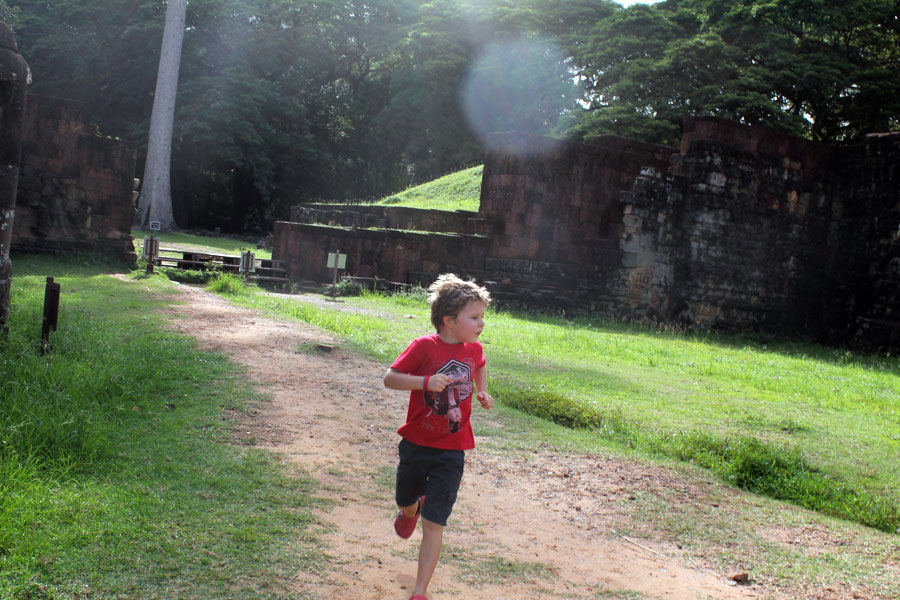 By Chance we stumbled across a group of Cambodian Monks. They were stunning to watch, very joyous and a delight to meet. We saw quite a few through the week all going about their day, sometimes they were in the temples praying, other times they were on horseback in ceremony and others they were wandering through the villages. Tom was very taken by them and loved to spot them while we were driving around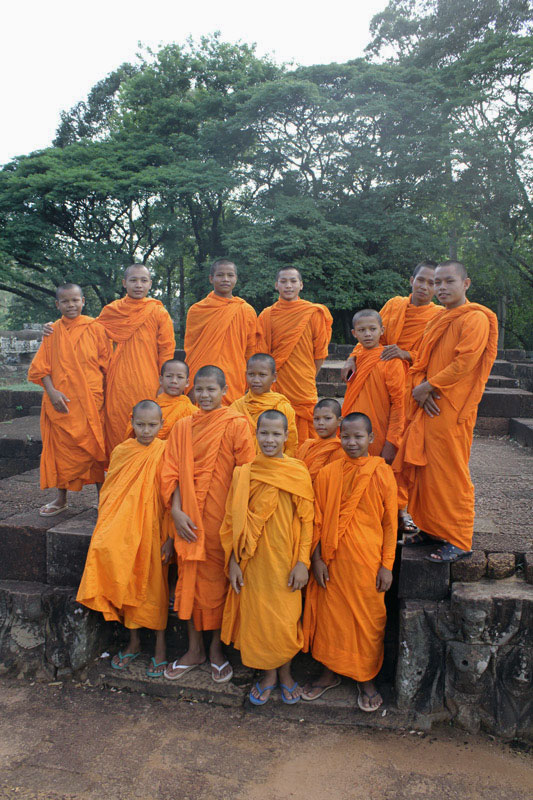 A few days later we headed out to check out Angkor Wat. The most famous and largest of all the temples. It was built in 1131 and took nearly 37 years to construct. It is known as being the largest temple, however to be honest I feel that is a bit misleading as the majority of the temple was grasslands. It was really beautiful and certainly special to walk through after looking at photos for so long, however I can't help but feel like the other temples were a little more impressive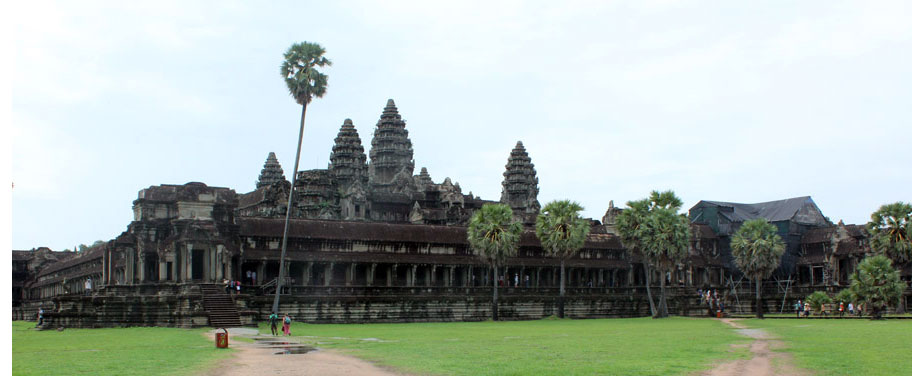 The view from the top was (supposedly) quite beautiful. I wasn't allowed up to the third tier as I had a singlet and shorts on and neither were the kids (for safety reasons), however Scott (in a t-shirt and shorts … and because he was a man) was allowed to make the climb.
We hired a guide for the morning, which was good as he took some great family photos and also told us lots of stories about Angkor and the temples. One thing I remember was that the idea behind the very steep stairs in the pyramid temples is they are supposed to be symbolic of the route to heaven, therefore must be difficult as technically not everyone should be able to climb them.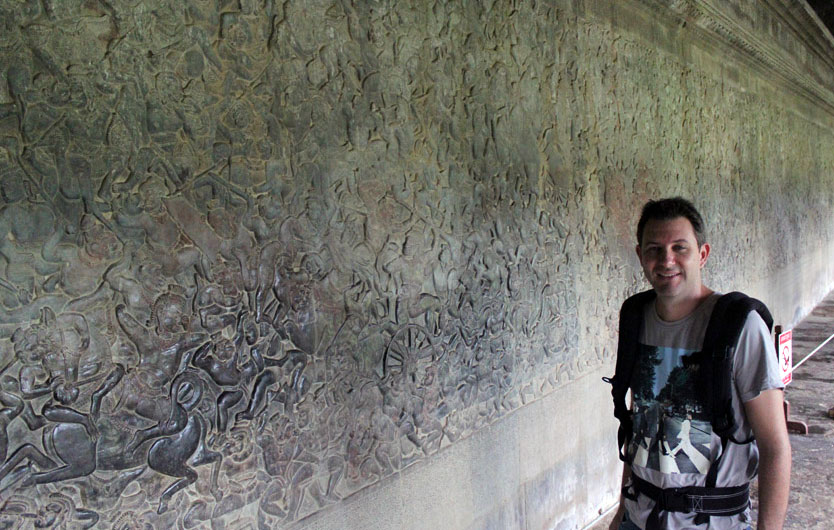 The walls are covered in beautiful carvings and elaborate stories which were just stunning and probably the prettiest I have seen throughout the world. Milo and Tom were minor celebrities and everywhere we went people took photos of them and asked to cuddle them. Sometimes they obliged, other times they were not so keen. I often wonder what people do with these photos when they get home? Do they put them in their family holiday albums? Do they go on the mantle piece? It is odd to me, but I am always happy when other people think my kids are adorable!
We did enjoy Angkor Wat, however my favourite temple was Ta Prohm with it's magnificent jungle inside and the buildings that were constricted by tree roots!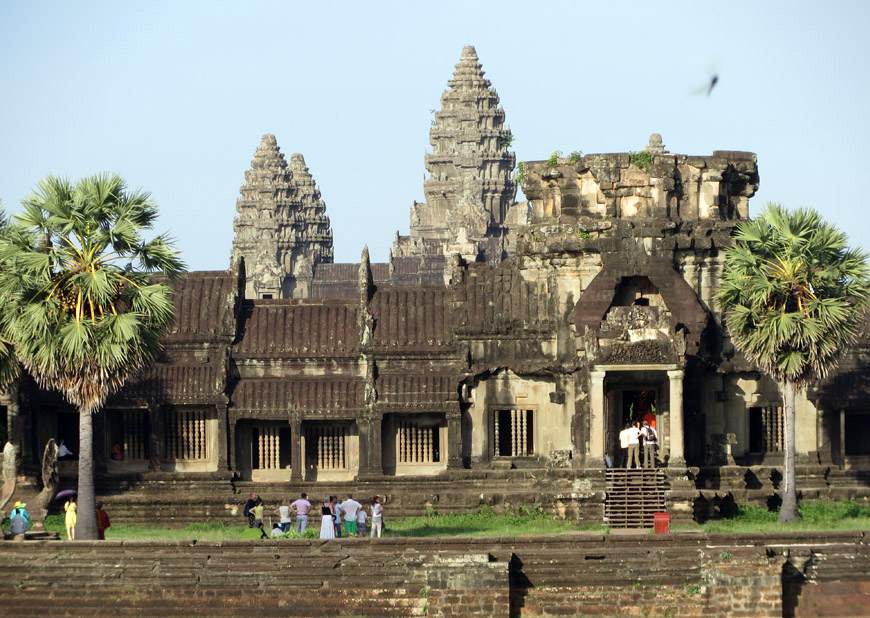 DAILY COSTS – for me and those who are interested. All prices are in USD
Entrance into Angkor – 40USD per adult for a 3 day in one week pass, if you want one day it is 20USD. Children under 12 are free.
Tuk Tuk ride – 15USD for the day. This was a lot higher than we had heard, but we were hot and wanted to get started so we just paid the price. We had been quote 20USD for 3 days by a driver the day before, but naturally he was nowhere to be seen!
Large bottle of water – $1US out on the road or 50cents in the supermarket
Lunch was in a large, air conditioned restaurant which made it a lot more expensive than other places (we were very happy to pay extra for the cool change) and for 3 large meals plus a drink each it was around $20US.
Here are some more photos! Enjoy!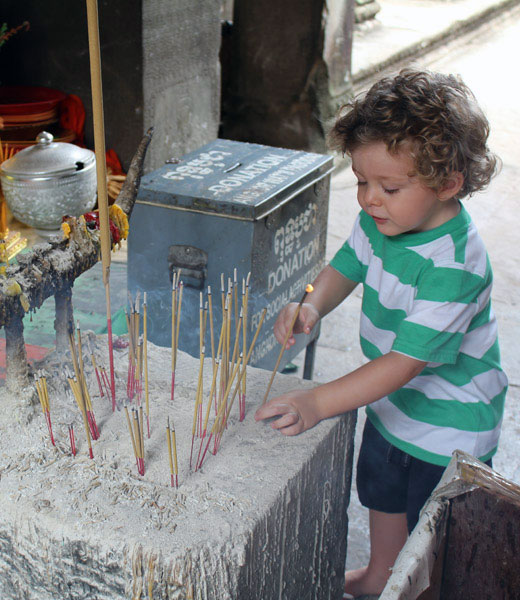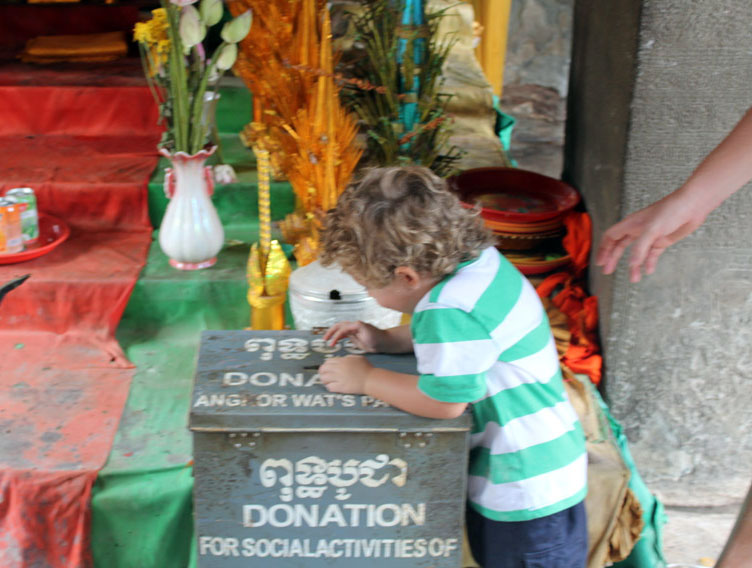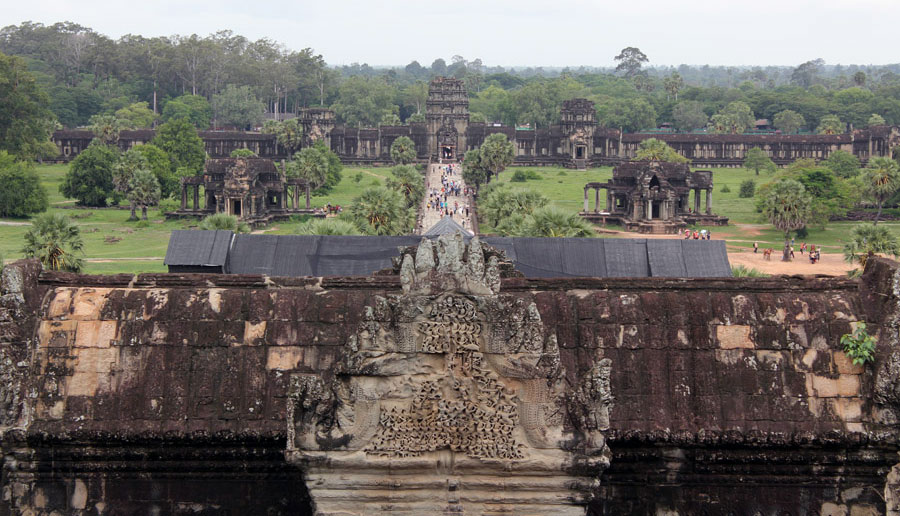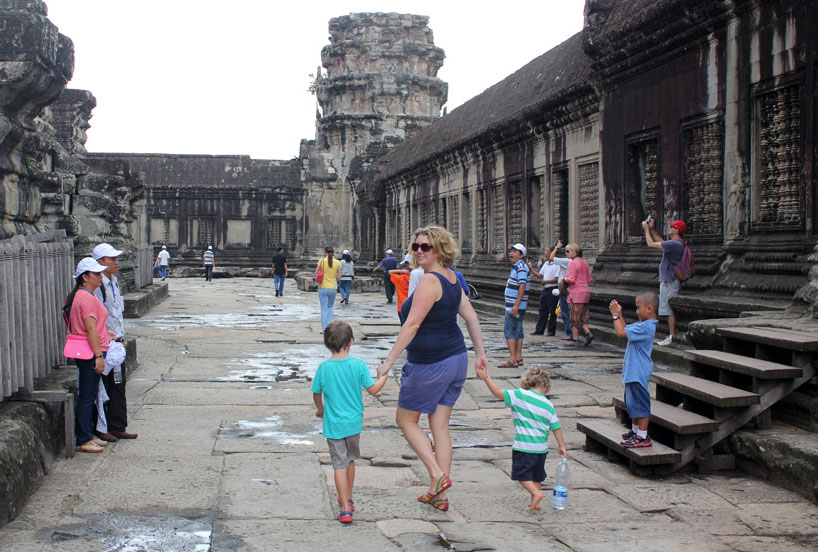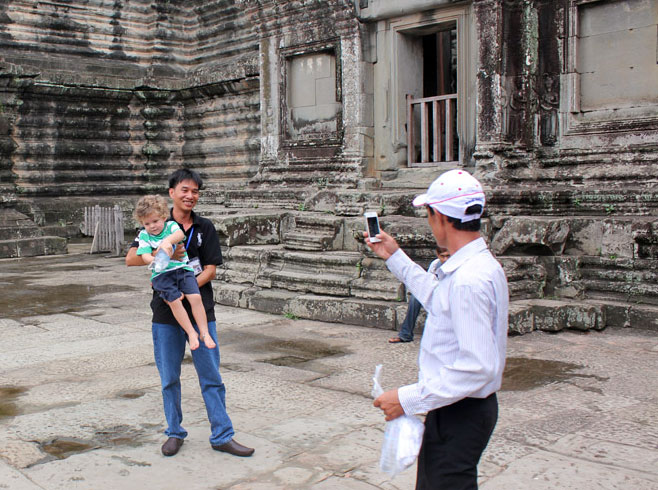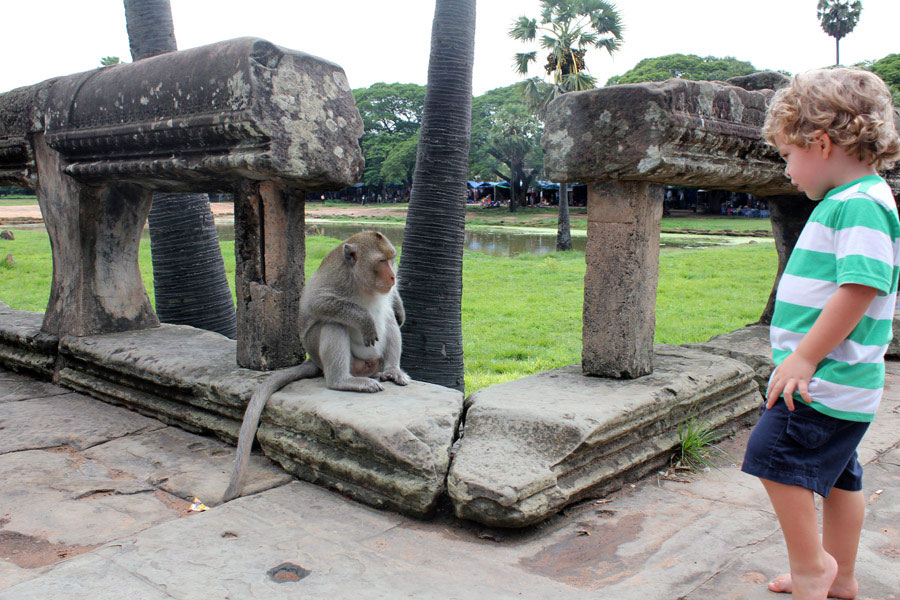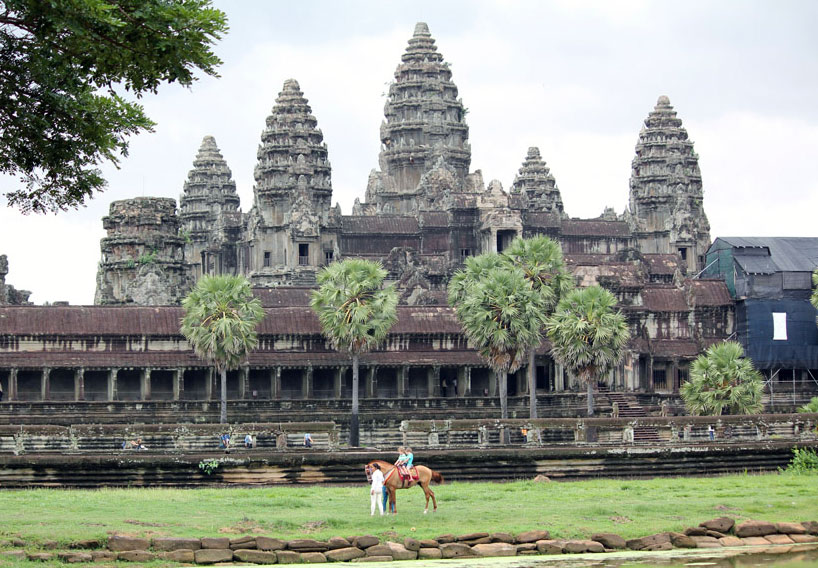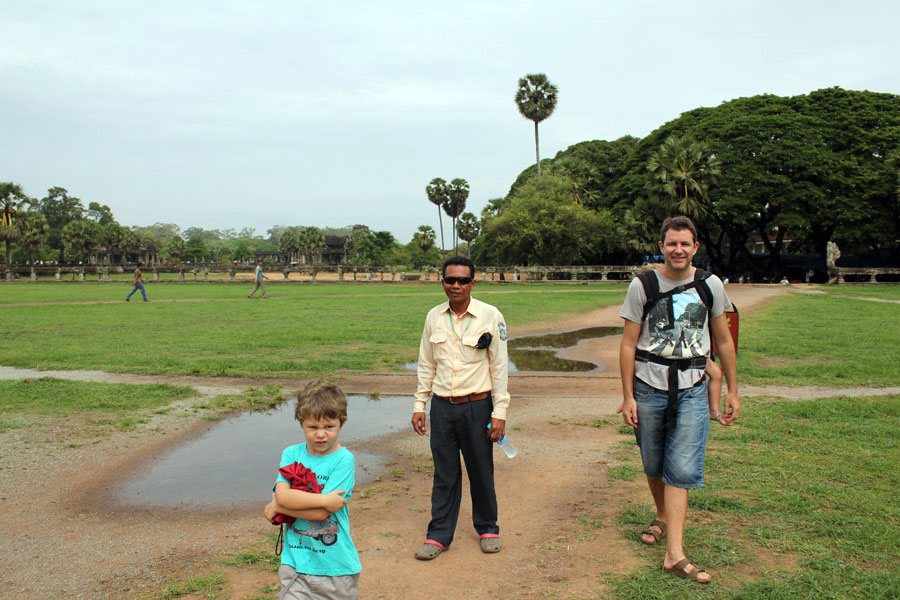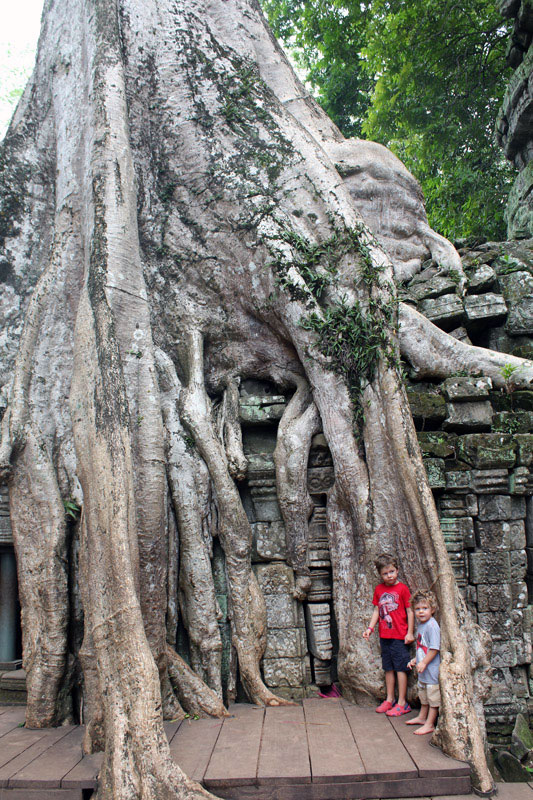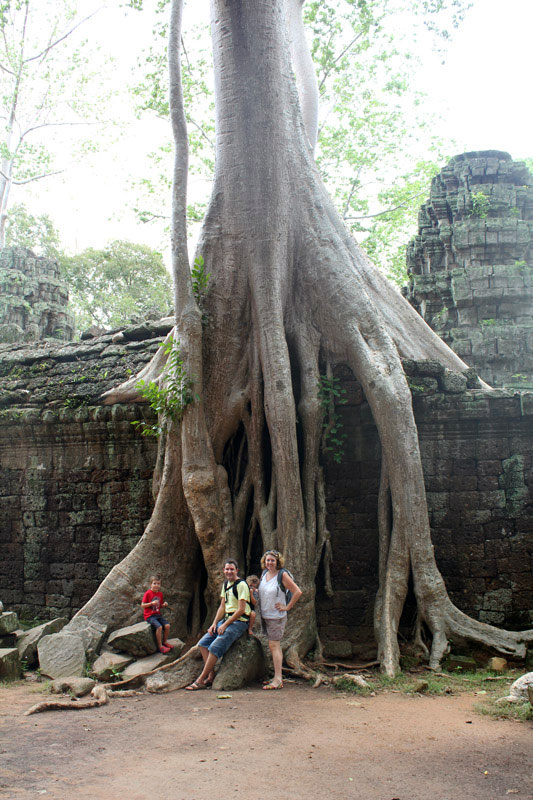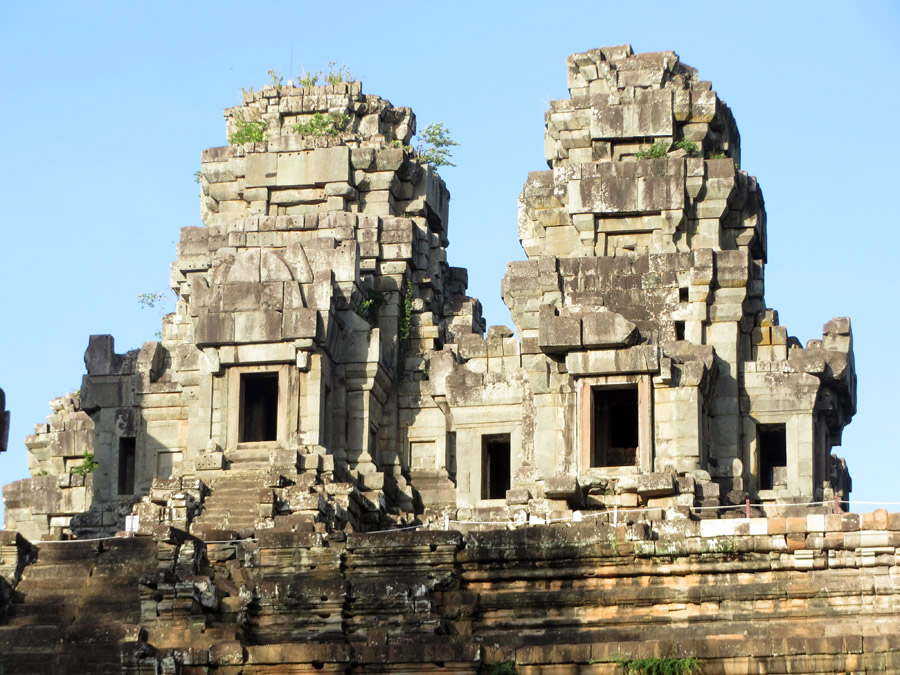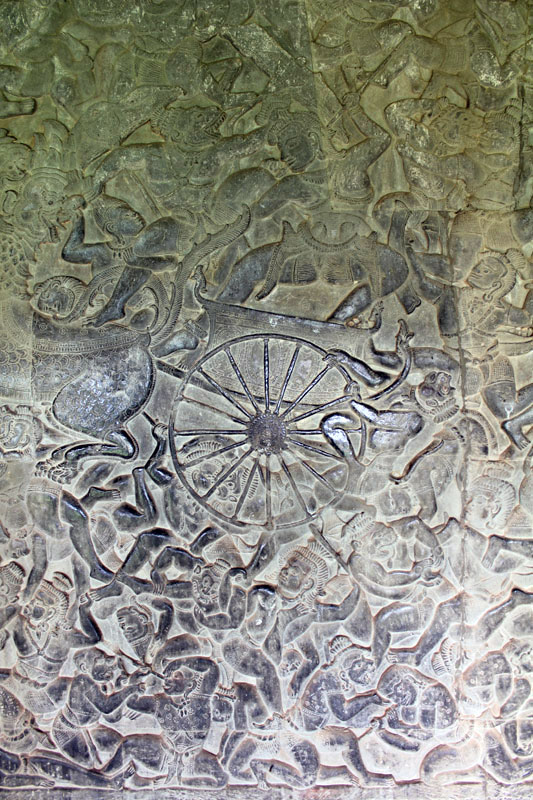 Share and Enjoy