In August we bought last minute flights from Brussels to Dubrovnik in Croatia as we were keen for some sunshine and good beaches. I was amazed at how varied the prices were. One of the best things about Europe is all the airports are super close together and so you can pick and choose where you fly from and to and if need be you can hope on a train or a bus for two hours to another airport and save a couple of hundred Euros. This proved to be quite handy, especially as there were 4 of us!
We arrived at Dubrovnik Airport at 9pm (less than ideal) and in the spirit of trying to cut down on costs (an idea that seemed like a good one at the time) we decided to take the coach into town rather than a cab. It was about a tenth of the price and the kids were very excited to climb up on board so we thought we would give it a go.
Magically we arrived in town near our Air BnB accommodation about 45 minutes later, unpacked and went to bed.
The next day we walked into the old town. The walk was easy and very pretty. Dubrovnik is the most southern coastal town in Croatia. It is famous for its amazing scenery, walled old town and mouth watering seafood. We decided to spend the day wandering around the ancient streets, looking at all the wonderful things on offer.
There were fresh farmers markets with delicious figs, fruit and olives. We stocked up on goodies and kept walking. FYI – I love travelling with a pram as it means we don't always have to carry what we buy!
A feature of Dubrovnik is its walls that run almost 2 km (1.24 mi) around the city. The walls run from four to six meters (13.2 to 19.8 feet) thick on the landward side but are much thinner on the seaward side. The system of turrets and towers were intended to protect the vulnerable city. The walls of Dubrovnik have also been a popular filming site for the fictional city of King's Landing in HBO's Game Of Thrones.[43] Wikipedia
The architecture was a real treat and our kids had a great time climbing stairs, chasing cats down alleyways and finding secret places to hide from us!
Best of all was the food! All I can say is I was in love! I love love love seafood and I am married to a man who does not share that passion. One of my most favourite things in the world is calamari and lucky for me, because it is a speciality in Croatia. Fortunately for my meat-loving husband there was plenty of other alternatives on the menu. We spent 4 days in Dubrovnik and I think I had Calamari every day for lunch AND Dinner!
We spent our days wandering around and enjoying the quaint and quiet streets.
Then we climbed the city walls. I was particularly keen on this part as I am a bit of a Game of Thrones fan and I had heard they were filming in Dubrovnik later on that month (yes it did occur to me to wait for the cast and crew to arrive).
The view from the Old City wall was stunning, you could see all the way out to Lokrum Island. The water below was clear and the weather was perfect. I can imagine this might be a fabulous place to visit all year round as the Dubrovnik Weather seemed to be perfect every single day. After spending 6 weeks of our 'Summer' Holiday travelling around France, we were finally experiencing the weather we had been looking for!
We went down to the Harbour and checked out the ferry boats. I had read a lot about Lokrum Island and was keen to take the boys one day. We decided to head out there the next day as it was after lunch and we wanted a whole day to explore and relax as the last ferry boat leaves before sunset.
We were told about a beautiful beach in the next bay over, so we headed out of town and walked about a kilometer  until we did indeed come across the most magnificent water. Now I am from Western Australia and our beaches are pretty spectacular, but this was what I came to the Adriatic for. It was simply stunning. We climbed down the steep steps to the bay and stripped off. The water was magical. Perfectly cool and it sparkled the whole time.
Tom had a great time jumping off the jetty and was quite pleased that he was able to keep up with some of the bigger local boys. We played in the sand/rocks and I honestly hope I will be able to remember the feeling I had on this beach until the day I leave this earth. If you are at all tempted by these photos ….. go … it is 100 times better in real life and totally worth it!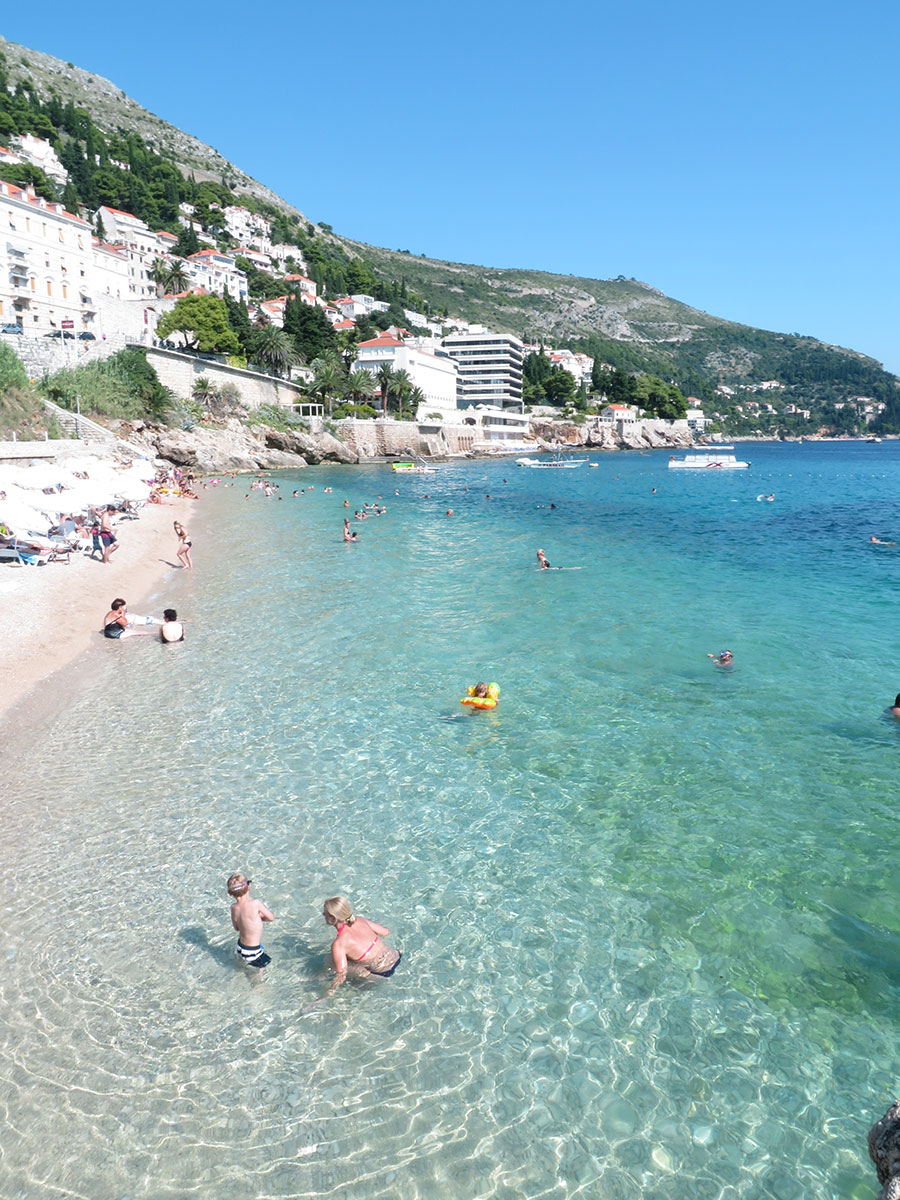 Next stop was Gelato! As expected it was delicious. Italy is right across the sea and Croatia clearly has learnt a thing or two about how to make icecream from it's coastal neighbours. The hardest part was choosing a flavour. We wandered around with our icecreams and looked at souvenir shops. There was a lot of overly touristy type places but, like most cities, the further you go from the centre the more quaint and authentic the art is.
We also spent some time driving up to the Panoramic cafe. The views up there were spectacular. You could see for maybe 20km  either side. You can take a cable car, drive or if you are slightly crazy (it is hot and steep) you can ride a bike. It it well worth the effort just for the view!
Overall I LOVED our time in Dubrovnik, it was easy to get around, fun for the kids and the food was amazing. I can highly recommend!
Share and Enjoy