We left the blue hole in Albania and crossed the boarder into Greece. The boarder crossing was a breeze and we soon found ourselves on nice big, flat and wide highways! Much to our delight and horror we came across a big sign warning us to look out for Bears as we drove. This is the first time we have come across them in their native habitat in Europe and only the second time in all of our travels. The first was in Yosemite in the USA and that is a story for another time. The beautiful green forests were also a welcomed sight after travelling through Albania for a few weeks.
We cautiously drove on and landed in Meteora in the late afternoon. I quickly found a hotel and headed out to take some amazing sunset photos. I have never been so excited to take pictures in my life. This place is like crack for photographers! I only wish I had a tripod so I could have taken more low-light shots.
Meteora is a group of Greek Orthadox Monastries that are suspended in the sky and located at the top of massive sandstone rock pillars. The town below (where we stayed) is  Kalambaka and is lovely. The streets are lined with little taverna's and quirky shops. There are also major supermarkets and it is easy to get around. Meteora is included on the UNESCO World Heritage List and there is also a quiet rumour that it should actually be added as one of the Wonders of the World!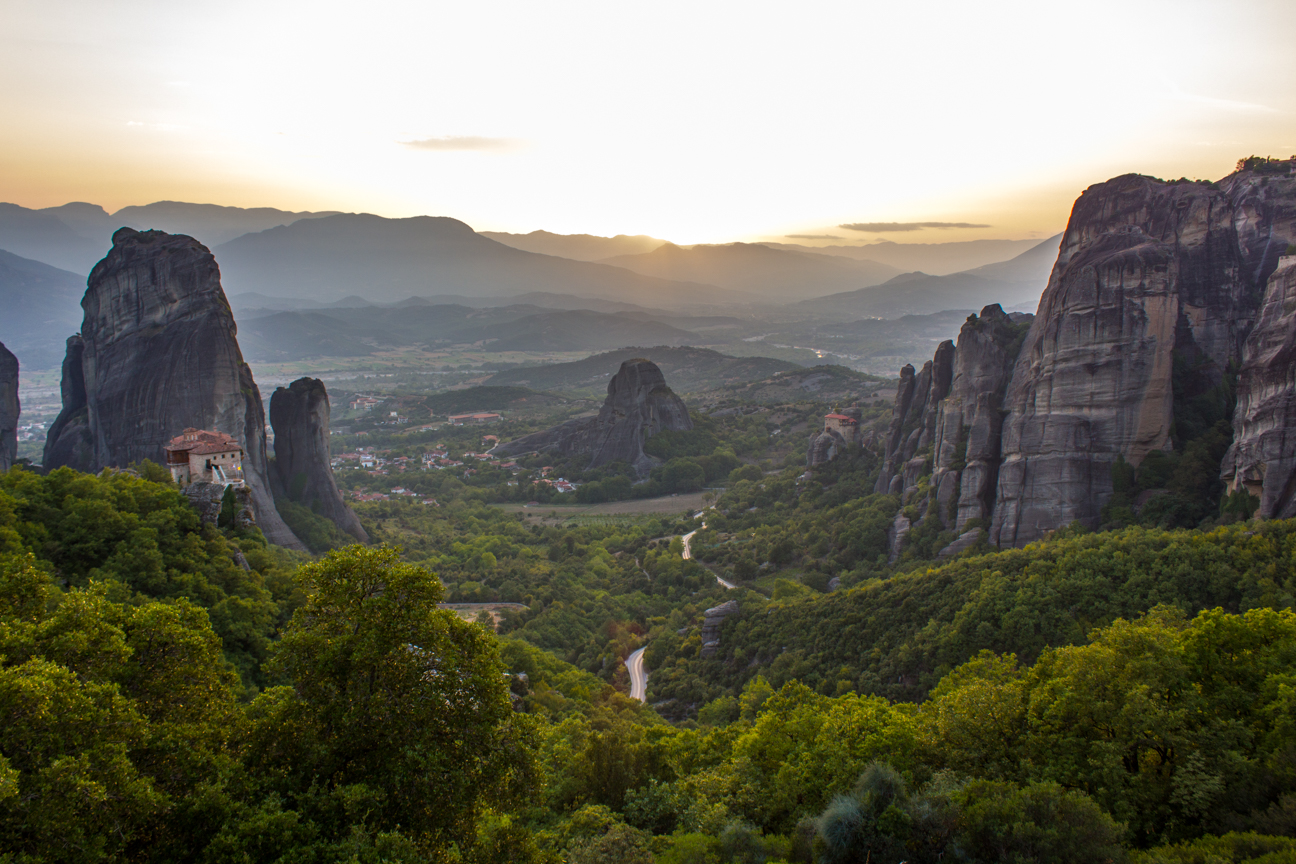 The scenery was so incredible and almost overwhelming at times. Luckily driving through the Meteora Monastries is pretty straight forward. The roads are very windy but there are only a few that weave their way around all the different monasteries so it is hard to get lost. All the monasteries are located up high on the edge of cliffs and while you can access a few by stairs, these days many are inaccessible. They were built for nuns and monks who were park of the Eastern Orthadox Church.
We had a great time stopping at all the view points and once we had found our chosen vantage spot we settled in for a while to enjoy the sunset.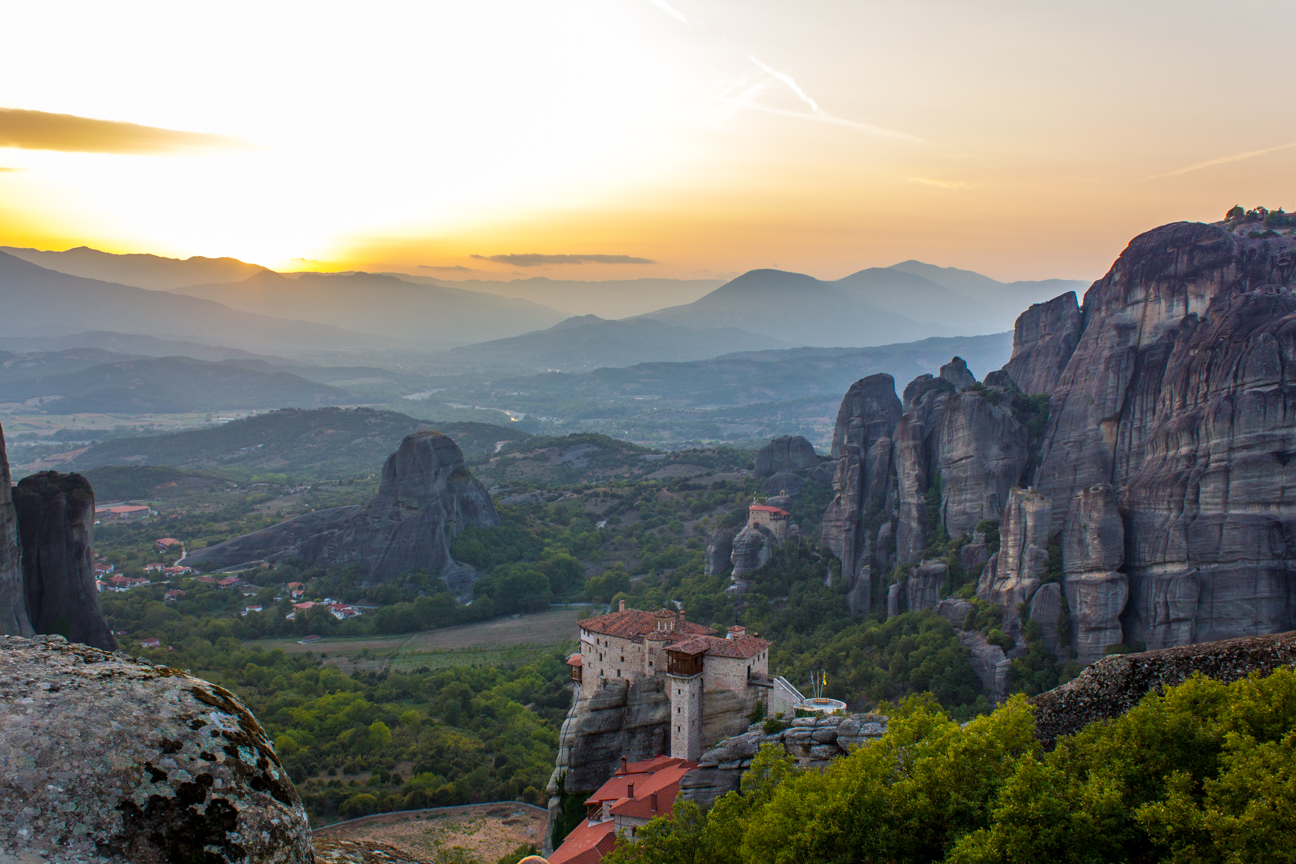 As the light changed so did the shadows on the rocks and valley.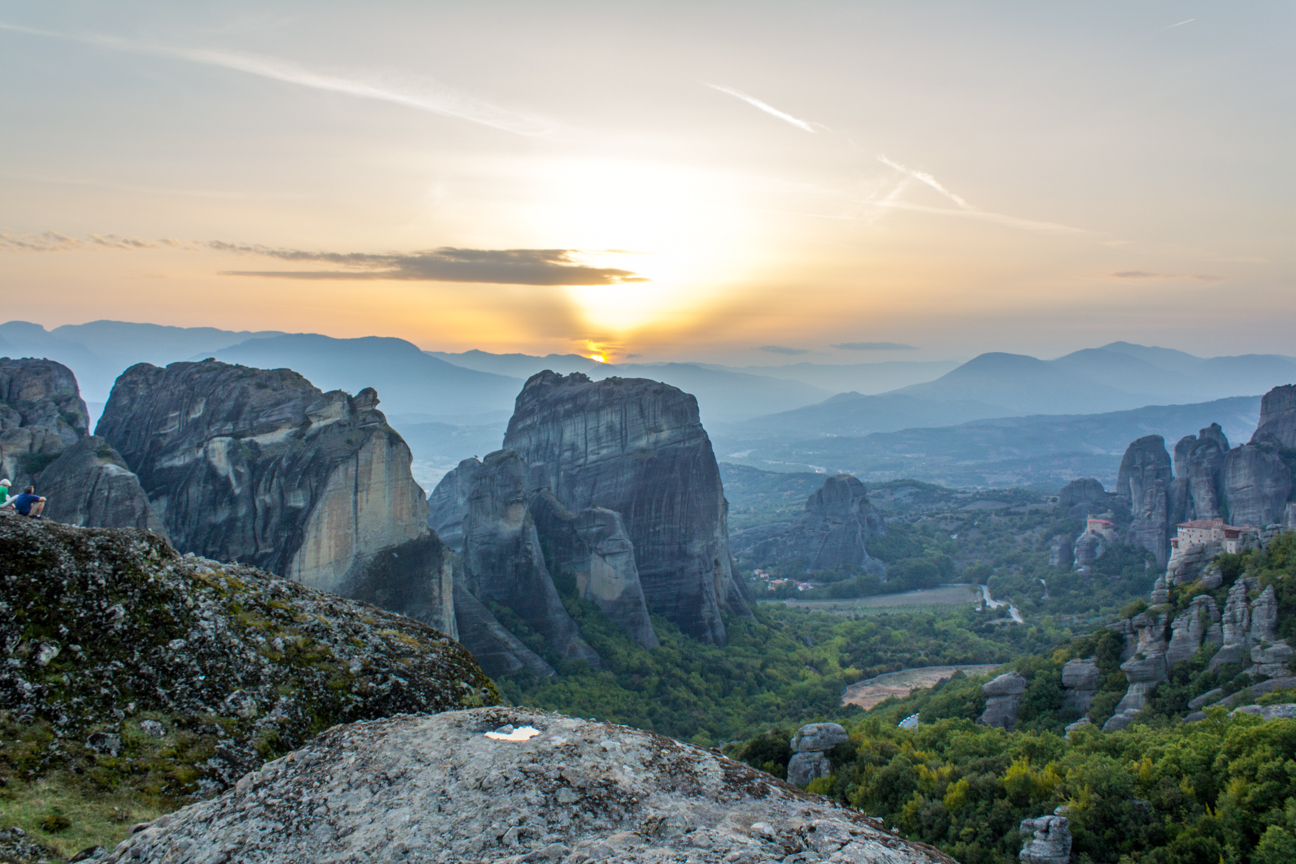 The boys had a wonderful time. Tom loves wandering around old ruins, ancient sites and anything natural so he had a ball. Milo just adored following Tom around and both boys loved the physical challenge of climbing over the rocks. You have to be a bit careful as there are no rails or anything to prevent your little ones from falling off (or in our case, jumping) so we had to keep Milo quite close as he is a bit of a ratbag!
The kids thought it was amazing and while I can see how many families might not think to bring their kids to a place like this I can highly recommend it. Our boys listened to a little bit about the history but to be honest it was just good for them to be there and see what it was all about.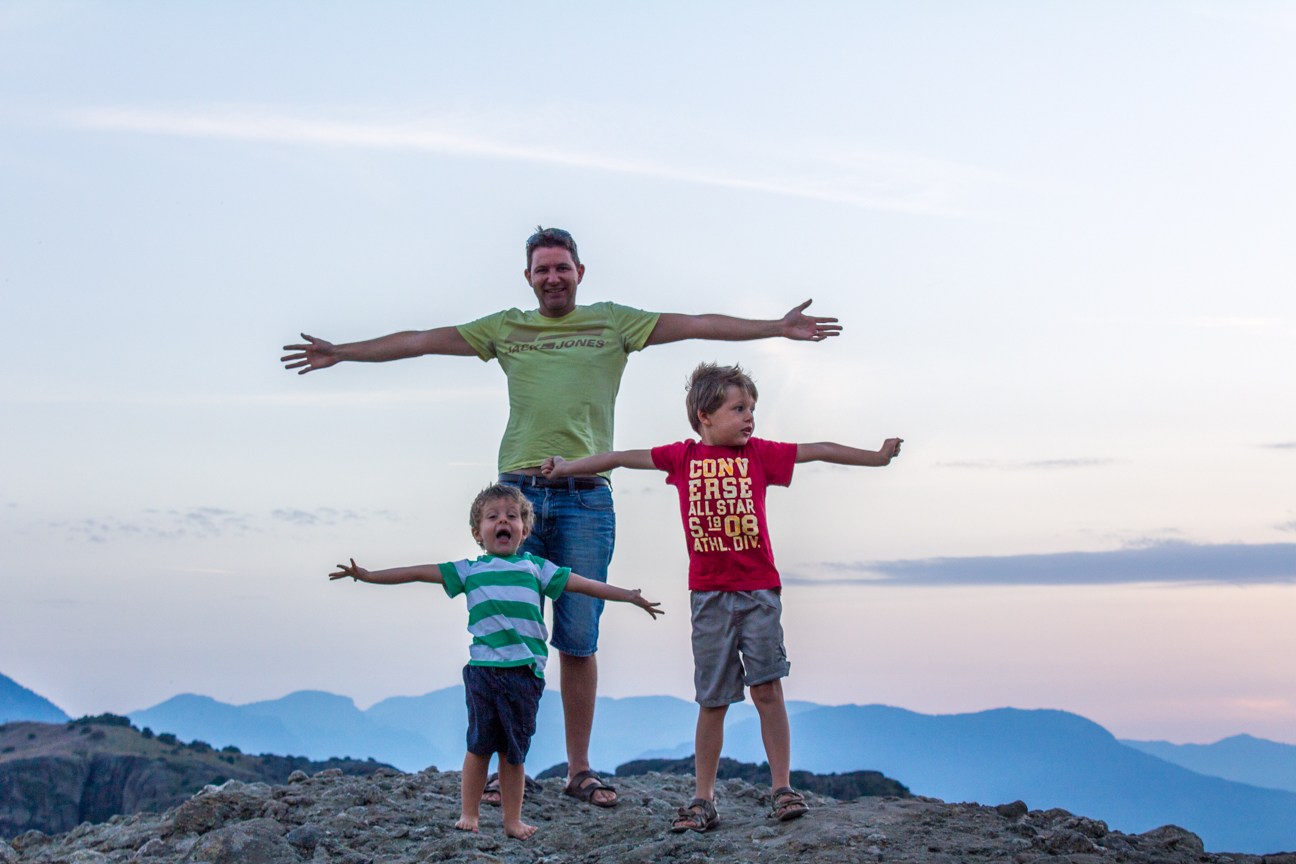 Tom told me he felt like he was on top of the world and that he felt like a true adventurer! He likes to be called AdventureTOM when he does challenging things and this was no exception.
One night had dinner in a cute little restaurant in town where we were staying; Kalabaka. We ordered, greek salad, a delicious bean salad and dolmades. The kids both loved the beans and bread.I love the greek food, it is so tasty! The little jug of wine didn't hurt either!
The next day we spent wandering around the monasteries and stopping at all the little local markets. You can buy fresh fruit on the side of the road very cheaply as well. This is great for stocking up for road trips. I was mildly amused by the 'roast chicken' bus that we found (see below) and just up from it was a woman who looked a lot like a witch stirring something that looked a lot like a cauldron LOL. She wouldn't let me take a photo of her but was happy for me to take a picture of her pot. I love the little things and the people we come across, especially when they are unexpected.
One of the wonderful things about Meteora is that you don't have to be fit or able to climb a mountain in order to see the sights. Views like the one below can be reached from Kalabata in about 20 minutes and you can drive the whole way. This is great for families with small children or for people who are walking impaired and have trouble climbing or hiking.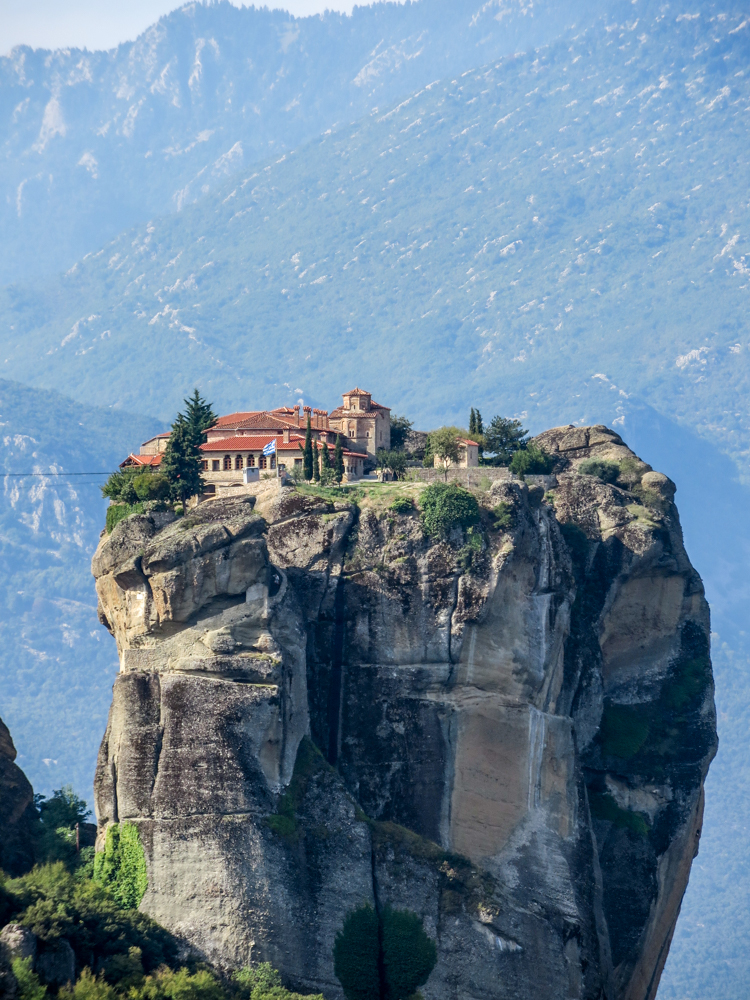 This was actually our third trip to Greece but the first time I have been anywhere outside Athens or the islands. I am so glad we made the effort to come down and see it from Albania. It was definitely one of the highlights of our trip. The whole area is very spiritual and religious but you certainly don't need to be Greek Orthadox to enter the monastries. I think only two were open when we were there (most are derelict or under construction) and there were a lot of tour buses so head up there really early if you want to avoid crowds and get in early. For more information click here.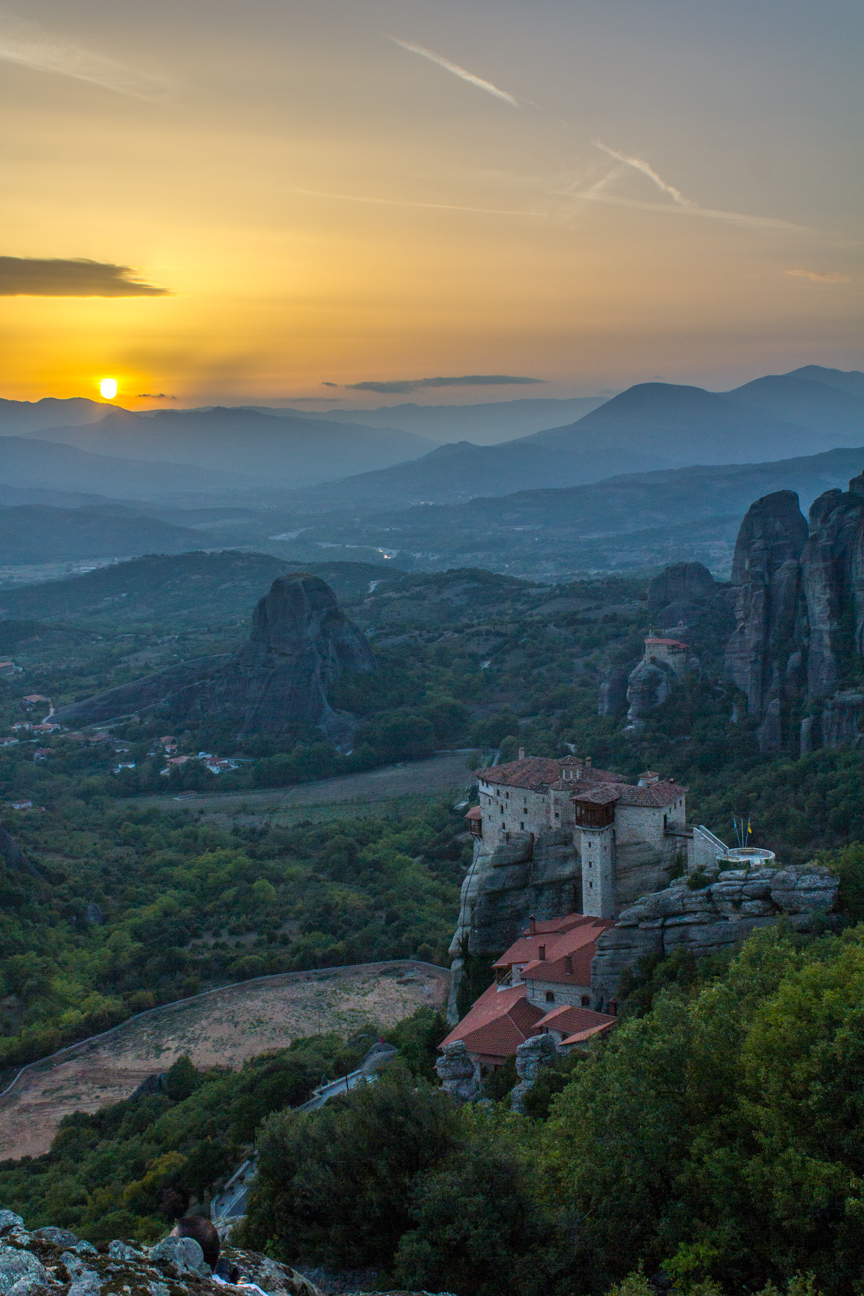 I left Meteora thinking that this won't be the last time we visit this place. We drove north and headed into Macedonia to Lake Ohrid!
Share and Enjoy