Here is a little overview of our Cambodia trip.
We stayed at the Angkor Reflections Resort, which is a little bit out of town but is a large resort with a massive pool and a few restaurants. We organised a pool view room that comfortably slept all four of us (a rarity) and got a good deal on Expedia where we initially booked it for two nights, but when we got here we liked it so much that we extended for another 3 nights. Tip: If you use Expedia's mobile app the prices are cheaper than on a laptop!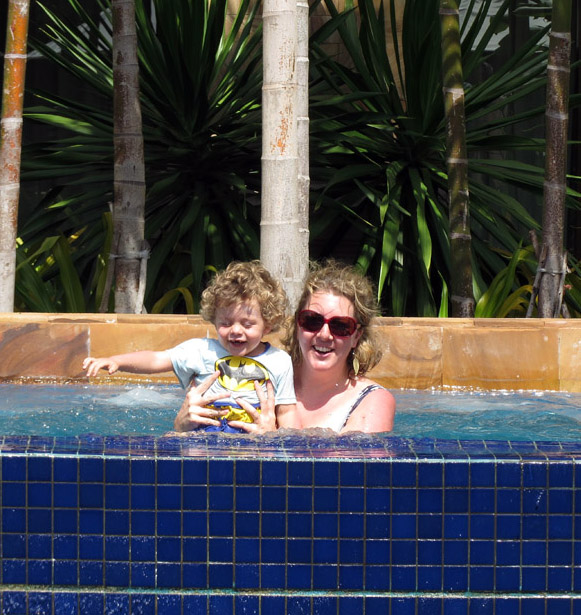 Each morning we head down to our fantastic complimentary breakfast. There was always so much to choose. The kids love staples like Cereal, Toast and fruit, but also ate their fair share of the pasty selections. I loved having Chinese chicken soup each morning with noodles and veges and Scott, as always, goes for the full American/English breakfast most days, sometimes with a side of Waffles. It is a great way to start the day especially as sometimes it is hard to find food for the kids out on the road, so it was good to know their tummy's are full at the beginning of the day!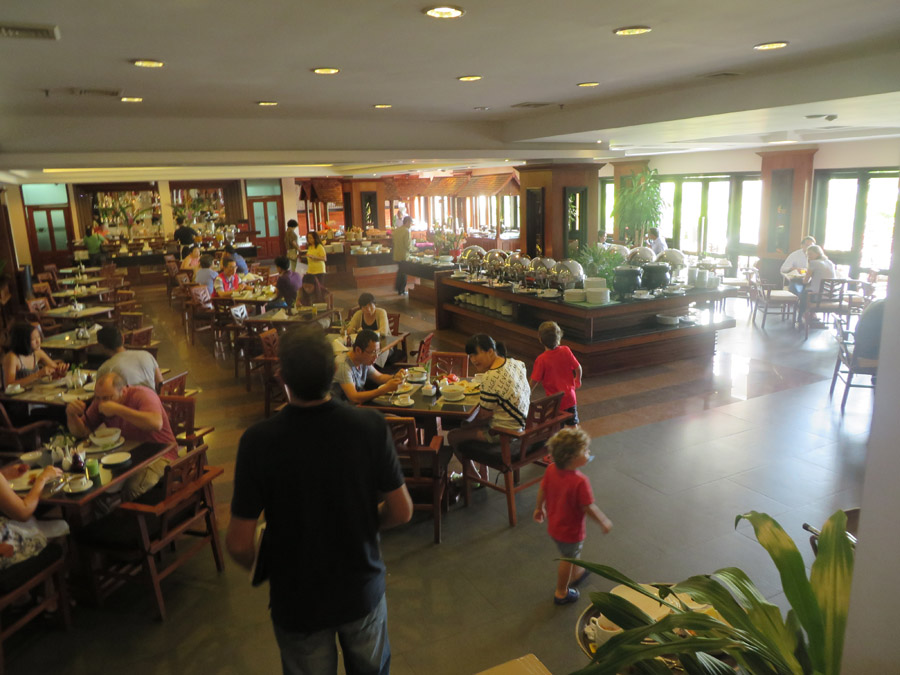 The temples of Angkor are about a half hour Tuk tuk ride from our hotel and maybe 20 minutes from the 'city' part of town. It did make me laugh when the locals referred to the old town as the city as it was more like a dusty pub district on a European island than a city. However, despite my description it did have lots of little interesting shops and markets and it was easy to get around. Our driver took us to a mini shopping mall to use the ATM (most places don't accept card) and it was very similar to a normal Western Mall. In their supermarkets they had "waitrose" items and most products available around the world. Scott was particular excited about the cheap alcohol prices!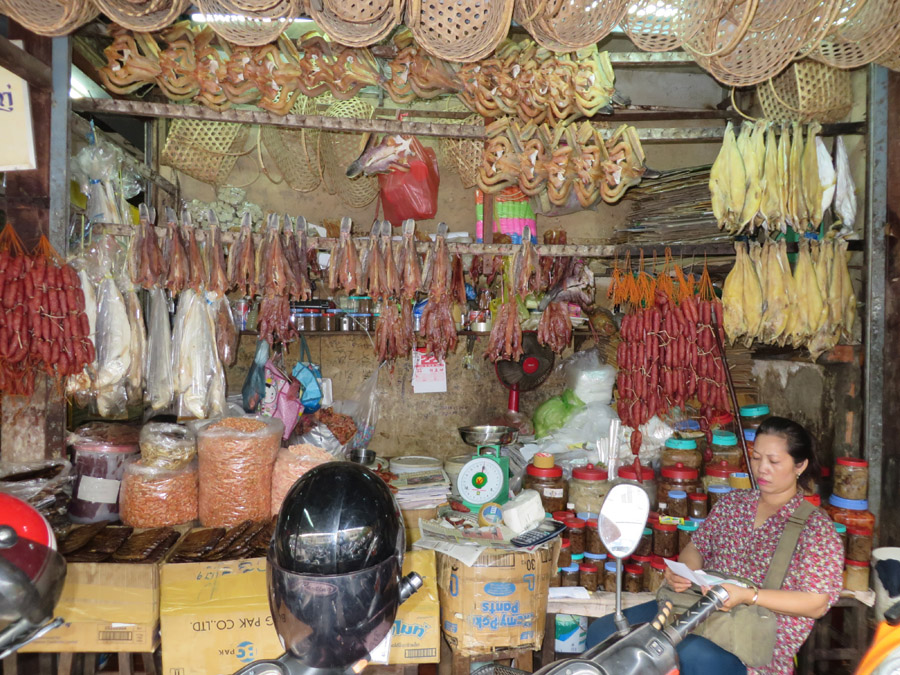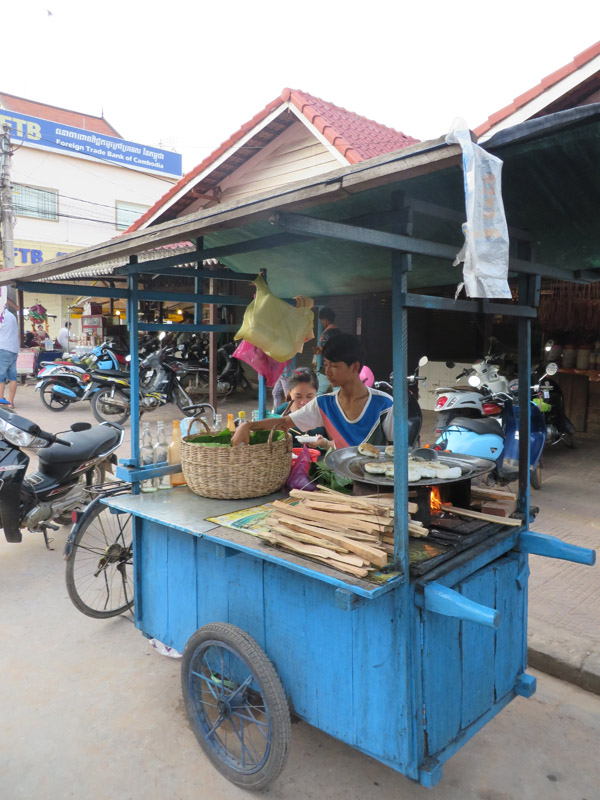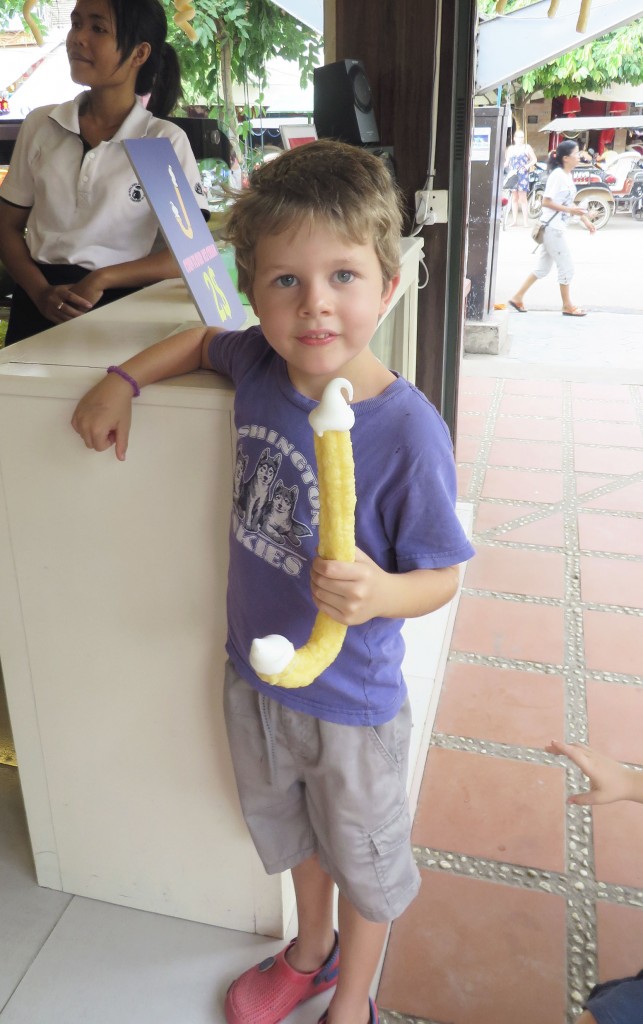 We headed to Pub Street for lunch and dinner a few times. The local Khmer food was yummy, similar to Thai but with a slightly different taste (perhaps more sour?). The Khmer Chicken curry is delicious and is similar to a yellow/red Thai curry with a coconut base. They also have another meal called Amok which is a fish curry served with rice. Cambodian BBQ is also quite popular and there are lots of unusual meats available (Shark, Snake, Crocodile, frog etc). We tried lots of different meals, but my favourite was the plain Khmer Chicken curry. The kids however were not so keen, they were very happy with Cashew Chicken and rice, which made things easier, and luckily lots of places served spaghetti Bolognese.
While in Cambodia we seemed to have started up family bonding sessions, commonly known as group foot massage time. It was so easy and cheap to wander into the local salons and have a half an hour foot massage each. Even Milo loved having his tired little feet rubbed after running around the Temples all day. We were just happy that we could all have a massage together instead of taking turns which is what usually happens.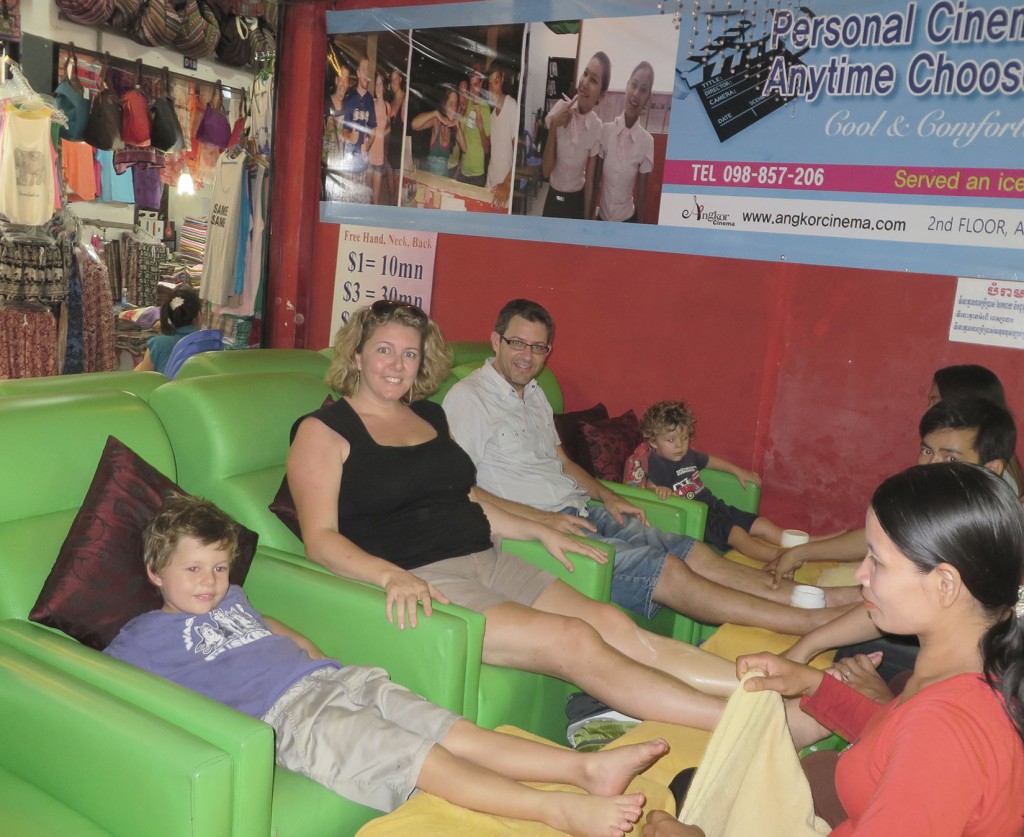 We caught a tuk tuk everywhere. Most of the time we organised one for a day, but on a few occasions we just sorted out individual trips. The drivers are nice, but their English is often difficult to understand and as always in Asia, if you ask to be taken to a specific place (like a Laundry that has a dryer, opposed to air drying your clothes) you have to go through three of their cousins Laundry's (without dryers) before they give in and take you where you need to go!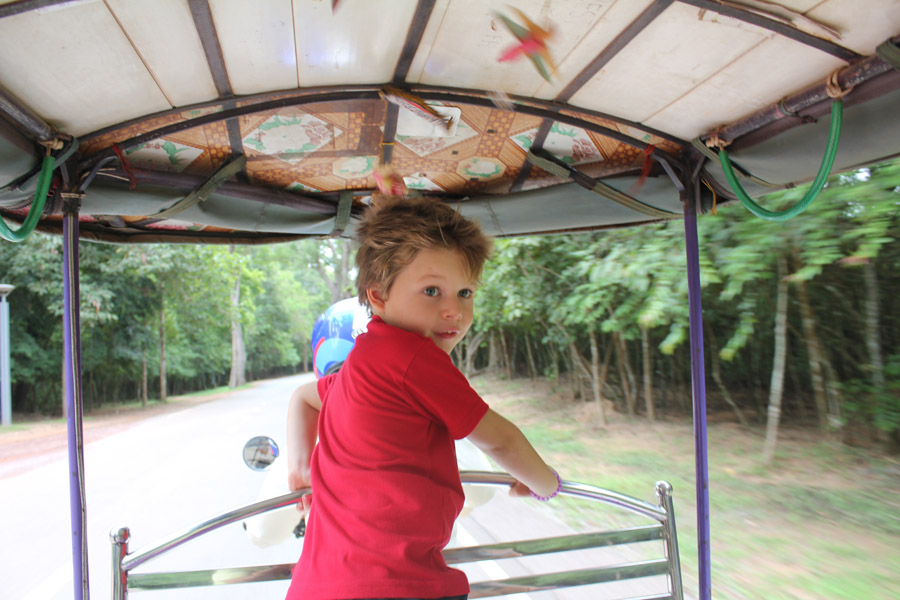 Most of the time the tuk tuk rides were lovely and cool and there was so much to see. We both noticed how much more engaged the kids were with the surrounds when we were outside on a tuk tuk vs being locked up in a car! It is a really lovely way to get around, however you do arrive home feeling very dirty.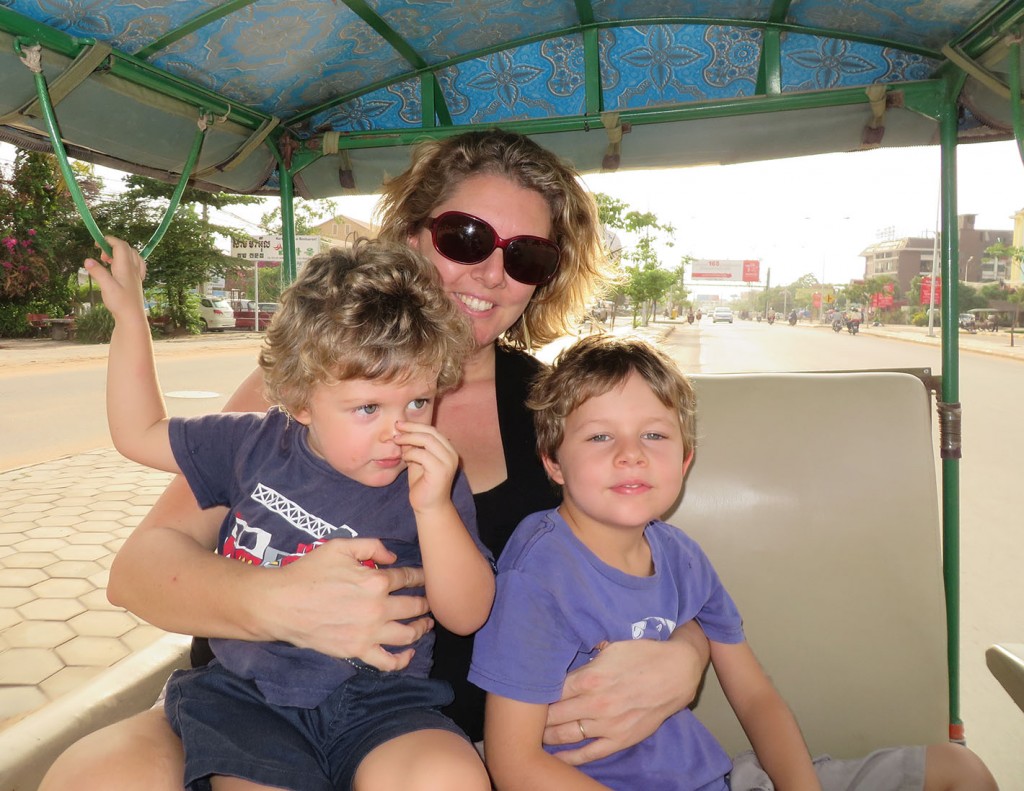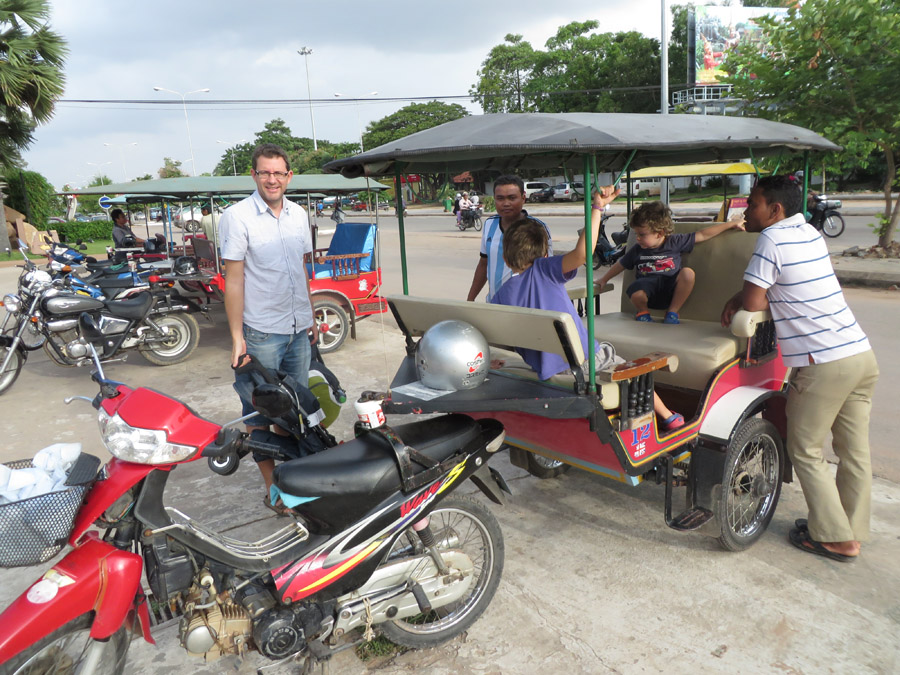 The internet here is better than Bali but a little more unreliable. Upon arrival we were incredibly excited to see we were downloading at 11Mbs but then spent the rest of the time trying to connect and receiving around 4Mbs when we did finally log on. It made it very hard to communicate online and check emails, upload posts and do research for Europe. Scott had much more luck in the business lounge of the hotel than in our room.
On our second last day we decided we wanted to get some tailored shorts made. It took about 8 hours and cost $15 per pair. I know I could have done better in the bartering department, but we were on a tight time frame. Scotts are OK mine are pretty average. I feel like they have been cut on the bias and are way too big (I had them taken in 3 times). I probably wouldn't repeat the process again. I have had garments made in Bali and had much more success. They are cheaper but take longer. If you ever want to get anything made up I suggest you let them copy what it is that you are looking for. Working from an image or description is not South East Asia's forte!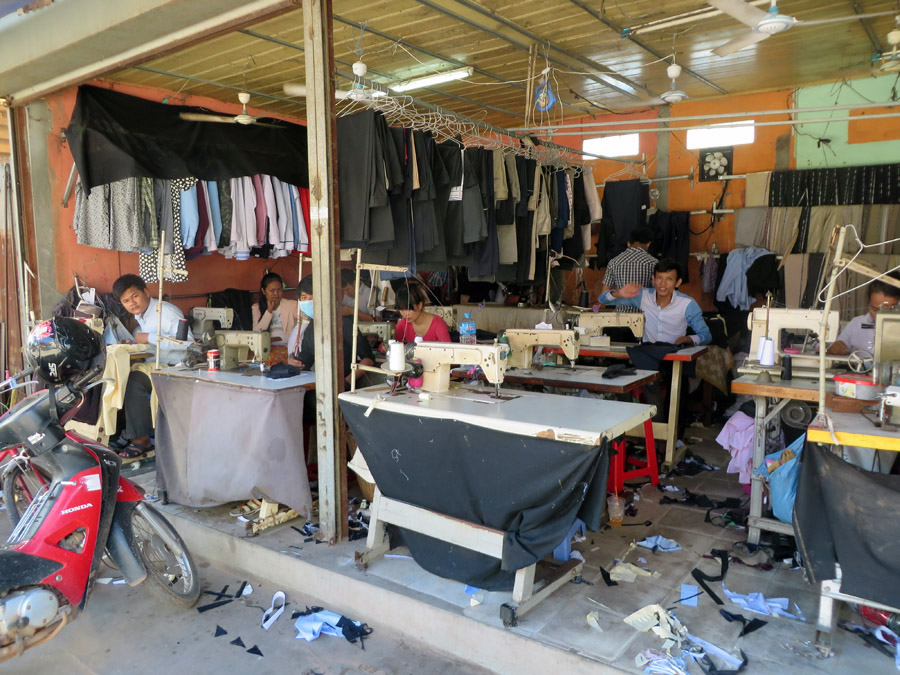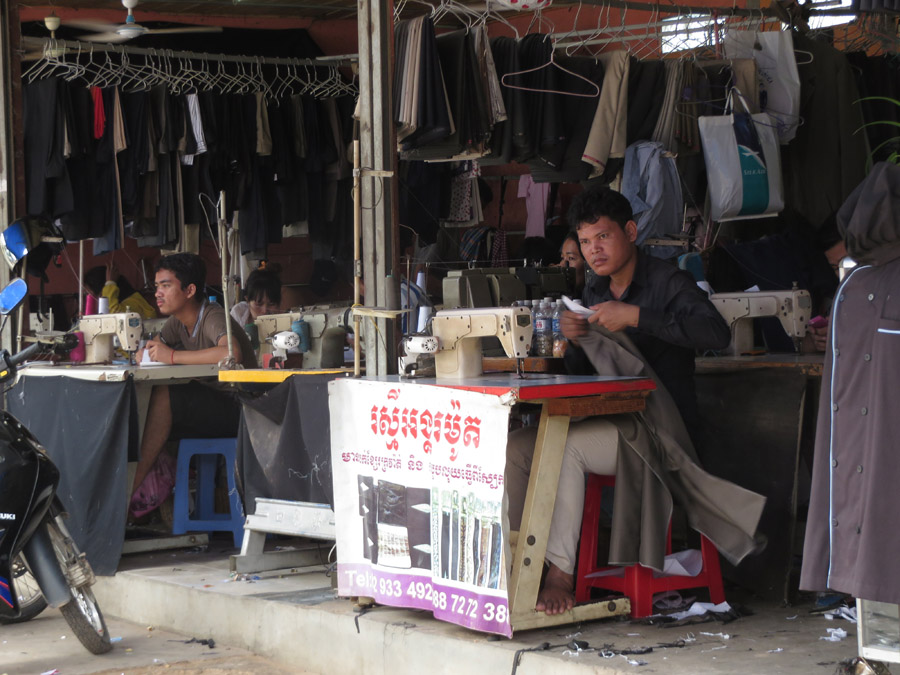 Each night we all usually fell into bed quite happily and the boys were always asleep within minute! It has been so much fun checking out a new country together and watching them learn about a different culture together. Tom is really enjoying travelling which has come as a pleasant surprise. He is a real homebody and if given the choice might stay at home for a month if he could. However I am please to say he actually told me he is having a great time travelling and is really looking forward to Europe!
Milo is always happy and laughs wherever he goes. He did have a rather traumatic accident where he and Tom bumped into each other on our bed and he bumped his teeth. We took him to the dentist and he told us (after going through all the options) that our only real option was to pull both of them out. It was awful, but fortunately it was much worse for Scott and I, than it was for little Milo. He was back to running around and jumping on slippery tiles within no time!
I have really liked the vibe here in Siem Reap. It is very relaxed and easy going. No one drives fast, everything is a little slow and everyone is a lot more organised than they are in Bali. It has been great to have a change of scenery and a nice place to chill out before we hit the UK!
Daily costs – for me and those who are interested.  All prices are in USD
Tuk Tuk ride – $15 for the day. This was a lot higher than we had heard, but we were hot and wanted to get started so we just paid the price. We had been quoted $20 for 3 days by a driver the day before, but naturally he was nowhere to be seen! If you want to just go from point A – B it is about $2
Lunch – $20 for 4 of us in a touristy, air-conditioned restaurant. We could have paid a lot less, but it was hot and this place was the one that was cold …which became a no brainer:)
Dinner – $16 – $20 for 4 including 3 meals (the boys always share) and drinks for all of us. Beers are 50cents and cocktails start from $1.50
Emergency Dental – We called at 8:30 and had an emergency appointment at 9:30. We had two dentists, three assistants and the centre manager (who spoke the best English) helping us for over an hour. At the end they handed me a bill for ….. $30US!
Share and Enjoy